Aarogya Setu to Co-Win – A case study of missed opportunities
Aarogya Setu was claimed to be our weapon against Covid19 but it failed to bridge the gap. We built many more bridges, including Co-Win, but still could not avoid the traffic jams. Thus writing an endless saga of what not to do.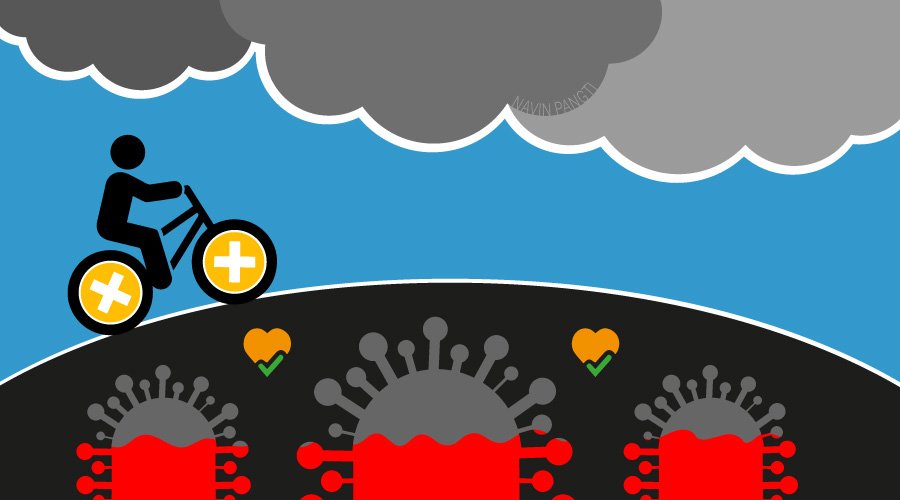 Aarogya Setu, a digital service deployed through a mobile application, aimed to assist common citizens with "contact tracing, syndromic mapping and self-assessment". NIC (National Informatics Centre), along with 'private partners', built and deployed this mobile app at the onset of Covid19 in India. Every government channel worked towards spreading the word around for quick and high adoption. In many scenarios its use was made mandatory. No wonder Aarogya Setu crossed 100 million installations within 40 days, becoming the world's fastest growing mobile app.
Prior to Aarogya Setu, government had released a beta version of a similar mobile app called Corona Kavach. The app did not go beyond the beta stage and all the users were asked to uninstall the Corona Kavach in favour of the Aarogya Setu. From what it appears, the Ministry of Electronics & Information Technology and Ministry of Health & Family Welfare had undertaken the task of building the Kavach without involving NIC. We do not know why?
Anyways, NIC stepped in and built the app along with the Ministry of Health and Family Welfare and one or more private partners (data not available). The summary of stated core functions of Aarogya Setu is as follows –
Spread awareness about Covid19 and share Covid19 updates
Connect people with Covid19 related essential health services
Help users identify Covid19 symptoms and their risk profile
Share best practices and advisories
Track movement of Covid19 positive patients and alert users about risk proximity
Predict hotspots
Share information on risk level of contacts
E-pass integration to enable movements during travel restrictions.
Based on local information, alert users about high risk zones – how many positive cases are likely in a chosen radius (from 500 metres to 10 kilometres) with the user as the epicentre
Enable easy integration with other computer programs, mobile applications and web services.
If the product offering was aligned to this 'stated' vision and some thought applied to the operational aspect of the app then citizens would not have been overwhelmed with an onslaught of problems. Going by the stated functions, ideally one could have been able to do the following on Aarogya Setu –
Ability to locate the nearest Covid19 test labs and book an appointment.
Ability to view one's report. Such data availability in the system, even when made anonymous, could have significantly enhanced data visibility and analysis capability.
Management dashboards for central, state and district level functionaries for predictive and reactive measures of epidemic management.
Admin dashboards for third party services providers for efficient rollout and management of their services.
Sub-location based data access for group level data management – allowing one smartphone to be used for multiple users, especially in villages and urban/sub-urban clusters. This feature would also allow managing data of a family through a single device.
Applying for transit permits during lockdown period. This could be local, intercity or interstate travel. User would not have to access multiplicity of portals to get travel permits. Such integration would have also helped understand and analyse movements so that pre-emptive measures could be taken to mitigations risks. This would have also helped check cases of fake permits.
For a Covid19 positive person, the app could have helped enter daily data of various health parameters to analyse risks and predict need for hospitalisation. In case of home quarantine, the app could have been used to track medicine intake. The data so collected could have helped analyse the trend, thereby enabling the government to take proactive measures.
In case of need for hospitalisation, the app could have been used to locate hospitals and check bed availability. In case beds are not available, it would have helped create a patient queue.
Data availability of patients who are not able to get a hospital bed but need emergency help like oxygen cylinders or concentrators could have allowed government as well as civil society to respond to these needs. This could have helped controlled the utter confusion caused by duplicity of requirement postings, and false/expired data.
These are some of the features which could have been made available with considerable ease. These are not hind side observations but logical features derived from the stated purpose of the app. If deploying these functions was not possible then I do not know why the app was made at the first place.
It is important to note here that when Aarogya Setu was being developed, Covid19 was in full swing in Italy. The scale of devastation that Covid19 could bring was there for everyone to see. With such a clear view of worst case scenario, Aarogya Setu should have provisioned for all these features, even if it was not possible to roll them out at one go.
Imagine the months of April and May 2021 with a well-functioning app. In the absence of these features, various state governments were creating websites to post hospital bed availability, which did not post live data hence was of not much use to people in need. One of the reasons why many families suffered multiple casualties is that one or more family members took upon themselves to take care of the serious patients. This 'taking care' amounted to finding doctor appointment, getting tests done, finding oxygen cylinder or concentrator, and then finally getting hospital beds. There was queue and chaos everywhere which could have been avoided to a large extent.
Even for data of new cases, active cases and deaths one had to depend on third party applications like covid19india.org. Showing district level data and trends, this website, along with worldmeters seemed far more credible. Governments were still on press release mode with pdf documents being forwarded on whatsapp. Many governments failed on this account as well.
A senior doctor once told me – if meds and beds were available the casualties could have been significantly lower. A well-functioning app could have reduced chaos, leading to timely intervention and reduced fatalities. Sadly, we ended up in this state even when we claim to be an IT superpower. What a lousy superpower we are!
An RTI revealed that ₹4.15 Crore was spent on publicity of Arogya Setu App between May and July 2020 alone. With less than one fourth of that investment, even a third grade tech service provider would have delivered something much better.
Then we got onto the next phase of our fight against Covid19 – vaccinations! By the way, we are not discussing the merits or demerits of vaccination here.
To rollout a vaccination drive the government decided to create a completely new product called CoWin – Covid19 Vaccine Intelligence Network (Waccine?). I wonder why the vaccine rollout could not been managed through Aarogya Setu itself? Why spend money on creating a new property and then spend further on promoting it. As on Feb 1, 2021, ₹58.9 lakhs was already spent on making CoWin. There is not information of subsequent expenditure, and the cost incurred in its promotion.
Vaccination drive using Aarogya Setu could have enabled faster, cheaper and most efficient roll-out. Technically, CoWin is accessible through Aarogya Setu but from what I could gather, it is just a link which is 'presenting' the CoWin data on Aarogya Setu. Once there, user has to follow the same routine as on the Co-Win site. In such a scenario isn't it better and faster to directly access the CoWin site.
Deployment of vaccination drive through Aarogya Setu would have helped in many ways. Some of the key benefits would have been as follows –
Easier and faster adoption at much lesser cost
Quick integration with third party apps through available APIs
With data on infection date of a Covid19 patient, the system could have streamlined the vaccination schedule of recovered Covid19 patients.
Vaccination of users exposed to Covid19 risks could have been delayed to minimize risks.
Vaccination clusters could have been prioritized based on hotspot predictions
Admin module for district level control rooms could have help plan and track the rollout on the basis of available data.
We would have access to data pertaining to effectiveness of vaccination. We could have also known the chances of reinfection to a person who already has had Covid19 thereby ascertaining the need to vaccinate such people.
Covid19 test reports, vaccination certificate, and transit permits etc. could all be available at one place. If Covid19 is going to hang around for a while then users would need concurrent access to all these. A single application managing them would not only assisted the end users but also streamline the document verification processes through a single window.
In both the applications, a basic assumption has been made that almost everyone in India has digital access. Or at least 1 out of every 4 person has. That is why CoWin allows registration of three more users apart from the principal user. Considering the fact that majority of India is poor and lives in rural area, a group module should have been there to begin with. This could have facilitated management of tests, disease, treatment and vaccination for a group through a single phone.
Such an integrated approach could have also helped push localized content for spreading awareness about various aspects of the disease and social behaviour. In the absence of such centralized information dissemination system, mediums like WhatsApp ended up becoming the primary carriers of (fake) news.
Sadly, both Aarogya Setu and CoWin are not available in all national languages. There is no logical reason to restrict the languages to twelve. Even the IVRS is available in twelve languages alone. Ideally, with an epidemic of this magnitude, the application and communication should have gone beyond national languages, incorporating all major dialects, especially for the IVRS.
In the absence of first hand data and information, it is possible that I have made some faulty assumptions. Please do let me know if you come across one, so that I can rectify the mistake. Ideally, as citizens we should have access to the product vision, strategy and plan. That is what many governments across the world do as part of good governance practices. For us that is a really long way ahead. As of now we do not even know the 'private' partners who assist in building these applications. The website of NIC, a principal stakeholder, does not even list Aarogya Setu or Co-Win as their offering.
What comes out amply clear through this brief analysis is that we, as a nation, did not need a bridge (setu) but a window. Aarogya Setu could have easily been that single window. And we failed!
I end this with a disclaimer that this article is solely about design /functional aspects of Aarogya Setu and Co-Win. It does not deal with security and privacy issues. All one is trying to state here is that if Aarogya Setu was the need of the day then we could have done a much better job. The losses incurred, in terms of human lives and miseries, due to the gaps that the app could not fulfill make the creators liable for all these losses. Hopefully we will learn from these mistakes and ensure that they do not get repeated.