Hill Jatara of masks
Hill Jatara is an ancient folk theatre festival of Uttarakhand. Actors wear vividly coloured masks of different forms & shapes to perform and celebrate. This is an attempt to represent these fascinating masks graphically.
When I first saw the pictures of Hill Jatara celebrations, I was amazed by the riot of colours, accentuated by wood carved masks hand-painted with vivid colours. The images of performers and the cheering crowd almost invite the viewer into that colourful cheerful world. Somehow I never got a chance to witness the festivities first hand. I have tried to make up for that by illustrating some of these captivating masks.
These graphical renditions of Hill Jatara masks are not an academic documentation of sorts. In order to make graphically interesting images, I have taken the artistic liberty to alter some colours and tweak some shapes and forms. These graphics are based on visuals of the festivities published online and shared on social media. The masks have been chosen to represent the diversity of forms and shapes.
The idea behind this exercise is to share the aesthetic sensibilities of a rural region of Uttarakhand, while allowing the readers to explore one's own connections with these shapes and forms. Masks are a common element of folk tradition across the globe and commonality of shapes, forms, colours and motifs speak volumes about how deeply interconnected the world is.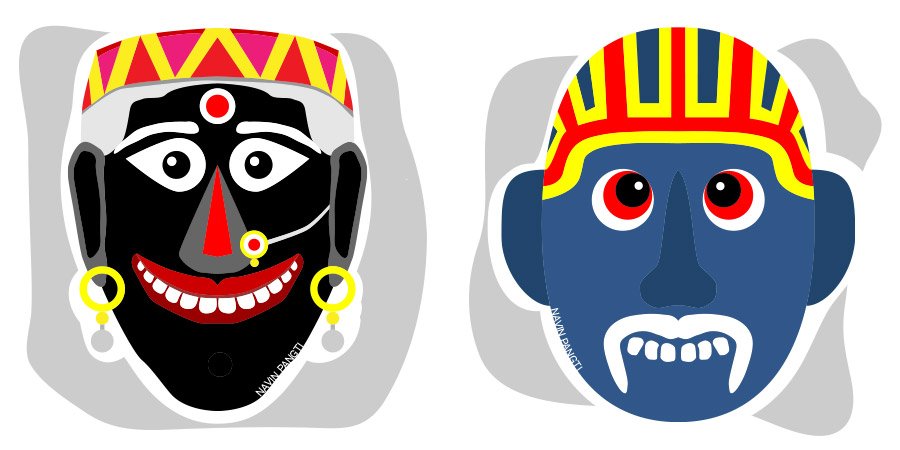 Talking about Hill Jatara – it is a festival of agriculturists and pastoralists, celebrated in and around the Sor valley of district Pithoragarh. Pithoragarh district is located in the north eastern corner of Uttarakhand, sharing its boundaries with Nepal and Tibet. I too belong to the same district but hail from the remote Johar valley which is one of the gateways to Tibet.
It is widely believed that the Hill Jatara festival originated in western Nepal. Prior to the drawing up of international boundaries, people residing on either side of river Kali (now Indo-Nepal boundary) shared common socio-cultural heritage. Social, nuptial and business relationships were not hindered by these imaginary lines.
As festivals were an integral part of social engagement as well as entertainment, expressions and rituals were often borrowed from other communities to add richness to one's own cultural bouquet. In case of Hill Jatara, even the name of the festival seems to have been borrowed. The term 'Hill' seems to be of Nepali origin and means 'mud' or 'sludge'. The term 'Jatara' does not come across as local term though 'Jaat' is a commonly used term to represent religious processions. There is a possibility that 'Jatara' could be of Bengali origin, where the term 'Jatra' (spelled Jaatra) represents a popular folk theatre form. Incidentally, the term 'Jatra' is also used in Marathi speaking areas where it means the 'village fairs'. Uttarakhand is believed to be historically connected to Maharashtra and Gujarat through migrations. These fascinating connections prove that cultures choose not to rot and stagnate but evolve in continuum.
The common subjects of Hill Jatara masks are people, animals and ghosts. Common animal subjects include bull and deer. One of the important characters of Hill Jatara is Lakhiya-bhoot (Lakhiya, the ghost). But thanks to the sanskritisation of ancient agrarian cultures, a modern myth is being created to historically link Lakhiya-bhoot to lord Shiva.
The basic mask is carved out of light wood (often from the wood of a tree locally known as Kheen) and then painted to portray the desired character. The actor wearing the mask compliments his or her appearance through matching attire and body colours.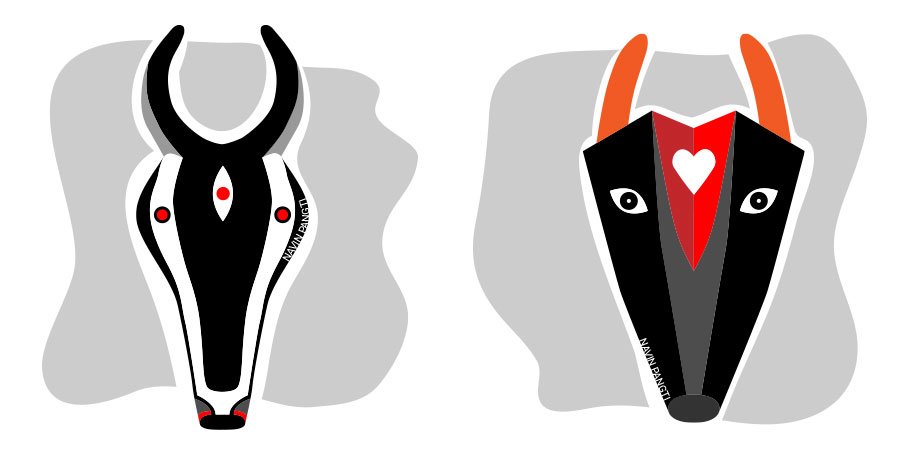 The festival is celebrated in Bhado, a month in Hindu calendar that corresponds to the months of August & September. This is the time when the rural folks are relatively free. The monsoons are over, sowing is done, harvest is yet to happen, the hills are lush green and the weather is divine. Festivities start off with prayers at multiple locations /homes. Prior to wearing the masks, they are offered to the Gods to seek divine blessing. The actors then don these masks and move in a procession towards the common celebration ground, to enact the stories that bind them all.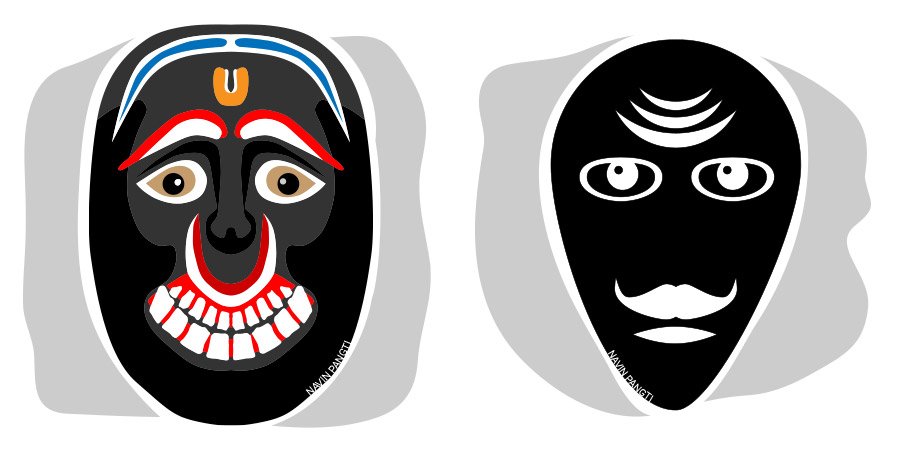 For more details on various facets of Hill Jatara and images of the celebration please read Dr Girija Pande's article 'Kheti ka utsav Hill Jatara' (An agrarian festival – Hill Jatara) published at www.gyanima.org.