Poems as films
These short films were made in 1995 as part of my college project. It was a wonderful opportunity to marry my two interests – poetry and film making. So many years have passed by and the idea still excites me. This post is not only an opportunity to share and archive old work but also revisit fond memories and rekindle the interest to explore the idea further.
This project was part of my final project. We had to undertake three projects in our second year of the post graduate course in design. The third semester project was to be a redesign project followed by a short research project. The fourth, and the last, semester was dedicated to a design project wherein we were offered a window of opportunity to explore anything we wanted – something original, something new, even something bizarre. There were no set boundaries, except that a faculty member should be willing to play the role of the project guide.
I was keen on film making. Working on poems sounded like a good idea as that would allow me to explore the medium and try out new things. Lack of reference point made the project slightly risky but the risk seemed worthwhile. Those days employability was the last thing that we cared about. And we did not know what pay packets meant.
After initial research on poetry and its various structures, I decided to try and make multiple short films exploring various visual modes of representing poetry. These eight films, exploratory in nature, are either an adaptation of an existing poem or an effort to make a film that is to films what poetry is to language.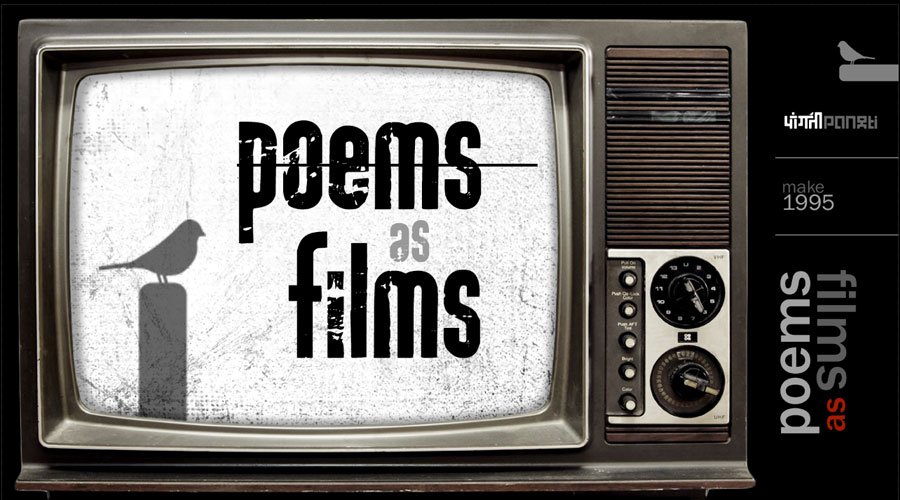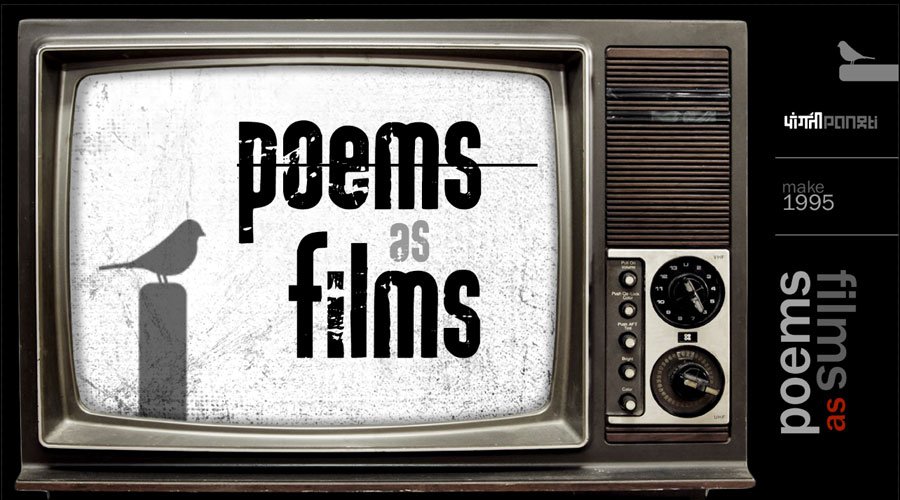 These films would not have been possible without Amit Garg and Anand James Dev. Amit was studying management at IITB and was keen to become an actor. We first got in touch because he wanted to get his portfolio made. In his younger days he was neck deep into theatre and also acted in a feature but somehow this relationship did not flourish the way his relationship with software did. He now resides in the US and runs his own software firm. As usual, he is the boss!
Anand is a maverick. His relationship with pencil, paint, and musical instruments is amazing. He has explored literally every aspect of visual communication. After working in the corporate sector for a while he switched to academics and has been teaching visual and business design at prestigious institutions, while living his passion for music. He put in lot of hard work to create music for all these films. Prior to this, he had also composed songs for my redesign project. My project bombed but we fondly remember the process of creating various songs for that project.
The first poem in the series is the visual adaptation of a poem written by well-known revolutionary poet Pash. Abstract imagery is used to amplify the spirit of fighting that the poem conveys. The poem in Hindi is called 'Hum ladenge', which means 'We will fight!'. The poem roughly translates as follows –
Friends, we will fight,
for the sad weather;
Friends, we will fight,
for the enslaved desires;
Friends, we will collect,
the fragments of our life;
Friends, we will fight,
as one gets nothing without a fight;
Friends, we will fight,
as we haven't fought till now;
Friends, we will fight,
to accept our punishment;
And to keep alive the memories
of those who died fighting!
Friends, we will fight!
We will fight!
The next poem explores the usage of real life images, instead of abstract ones, to visualize an abstract poem. The poem called 'The Universe' is written by May Swenson and talks about us, our purpose and the purpose of the universe.
I was always mesmerized by the Japanese haiku. These three liners are condensed with meaning. This haiku about a moon, interpreted as a verbo-visual film, was written by a Japanese poet Ghosu.
When a poet recites his or her poem, they relive the experiences that made them pour out their thoughts and feelings into words. One wondered if an actor too can live and feel the poem like the poet, and narrate it to the audience as if it was his words. Amit pours out his soul in this poem written by Nagarjuna, which translates as follows –
I asked you so many questions,
why don't you ask me a few?
I wanted to know so much from you,
why don't you try
to find a few things about me?
You, watching me silently,
through your lost eyes;
and the indifferent movements
of your stoned lips;
It is all so distressful!
At least tell me something,
something at least,
I have asked you so many questions!
In all the above explorations, the poetry was part of the film, as text or voice. In this exploration the first half of the poem is depicted visually while the second half is garnished with the recitation. This poem by Mushafiz Khwaza ends as a question which roughly translates as –
You are everywhere,
while I am nowhere;
If you were to ask me,
what do I want,
I will end up wondering
what should I seek?
If one writes a poem and then translates it into other languages then one has the liberty to change the style and structure, while ensuring that the essence is retained. But when it comes to translation from a written language to a visual language then the difference may be even more. This exploration is based on a Hindi poem written by me which wondered if 'truth' had come knocking my door and I had failed to recognize it.
Various types of inspirations and insights sow the seed of a poem. How about a visual inspiration? You see, you imagine, you shoot, you edit… and a visual poem is ready. Reversing the process followed earlier; in this exploration the words were written only after the visual poem was ready.
This journey had its share of rough patches so I ended the exploration with a visual poem that represented my disagreements. This short film was shared only during the final presentation and even my guide did not know that this is how I was ending my presentation. The idea was to represent a statement as a visual poem. I wonder if I would have done it if I was asked to do so. Or, for matter, should anyone do something just because they are asked to do so?
All these films were shot using a VHS camera and edited on an analog video editing unit. There was no separate sound recording system available hence inbuilt camera mic was put to use. Luckily, Anand had a fancy keyboard and could provide midi output hence we were able to get crisp music track. After college, I carried the work home on a VHS tape. I was lucky that few years ago I met someone who helped me digitize these films so that I could share it with you.