A round trip to Bangalore
Though Bangalore is now to be called Bengaluru, but somehow name changes do not go well with me. These conflicts about nouns are nothing but ploys to distract people. But this note is not about distractions. It is about strange observations.
I was making 'any' trip after a real long time. Even without Covid, I was pretty firmly stationed at our farm, a little ahead of Almora. Moreover, I had no specific reasons for travel. But this time I had one – the need to organize some bread and butter!
On the D-day, I drove down to the nearest railhead, Kathgodam, to board an evening train for Delhi. I reached Kathgodam well ahead of time and waited for the bogey doors to open. And as soon as that happened, I took my seat and opened up my laptop to finish some pending work. The train is relatively empty at Kathgodam as most of the passenger board the train at Haldwani, a neighboring station located in the heart of the town.
A short while later, an elderly couple walked in and occupied the seats that were diagonally ahead of my seat. The wrinkled man, in his late 70's, was dressed in wrinkle-free corduroy trousers, a spotless white shirt and plain denim jacket. The lady was wearing a colourful salwar kameez stitched in traditional style. As soon as they made themselves comfortable, both of them flashed out their smart phones. Their screens were visible though I could not read the text. I had no intentions to read their messages but could not ignore the visuals.
The lady was browsing lazily. Her screen was packed with religious and people content. But the old man was browsing his content on WhatsApp at an amazing speed. His visual content was primary socio-political, interspersed with some rather odd images. I strained my eyes to focus on the visuals and was surprised to see porn. The way the gentleman was browsing was interesting. He would rapidly scroll the screen and as soon as he passed a porn image, he would stop scrolling, scroll back slowly, hold on to the screen for a few seconds and then start the rapid scrolling again.
Almost maintaining the same rhythm, he occasionally browsed back to view and delete a non-porn content. It was a unique browsing pattern, perhaps a neat way of engage with such content when there are people around you. He was holding the screen quite close to his face. I guess that was to ensure that the person behind is unable to catch a glimpse of the screen. Even his wife, sitting on his side, would have to really push back and twist her head to see what her gentleman was browsing, though she seemed least bothered.
I think that the cautious gentleman suddenly realised that someone sitting diagonally behind may be able to view his screen. He abruptly got up and walked out of the bogey. I could see him standing next to a wall, browsing in the same pattern as before. His face lit up when his finger movement slowed down, and then it was fast fingers again. He boarded the train a few minutes prior to its leaving the station. The bogey was still relatively empty but he did not take any chances. He was still browsing his phone, but rather slowly. No objectionable content popped up. He was using the WhatsApp groups feature rather well.
Delhi traffic always scares me so, on reaching Delhi, I took a metro to Gurgaon to reach a friend's place. Though metro is no better that an upmarket version of the blue-line of yesteryears. There was a major change in the compartment landscape with almost everyone hooked to their devices. The couple sitting next to me had provided a plastic phone to their toddler while the father consumed filmi video content and mother played Ludo, with herself. The only people not on their phone, apart from me, were these two girls and their mother. The elder daughter was trying to discuss shopping plans while the younger one kept bringing the discussion back to her privacy on the wedding day, in their two bedroom room house.
After a late night get-together, I under-slept and reach airport early. The airport lounge almost felt like an upmarket view of the metro. People often talk about interface interactions making immersive experiences but if we look around, it is actually the content that creates and sustains these experiences. I wished I could immerse myself in such experiences and regretted not having social media or OTT apps on my phone. I tried spending time on YouTube but searching for new consumable content every few minutes was a cumbersome task, though shorts did assist some bored consumption.
Finally, I was left with no choice but to observe people, an activity I enjoy. There always are a variety of people waiting to be observed. Couples leaving for, or coming back from a honeymoon to couples whose marriages seemed to have passed the expiry date. What is especially interesting in watching large family groups, especially folks from Bengal and Gujarat. Even more entertaining are professionals on business trips. It is interesting to try decipher their job role and industry through their body language. And then look for confirmatory evidences. The easiest ones to identify are techies, especially devops folks. They make it so loud and obvious! It is also easy to spot and identify the well-dressed folks in animated conversations that sound like a spree of positive affirmations. Mostly being made to self.
The flight started off at a very boring note. No people to watch and no internet connectivity. I promised myself that as soon as I reach Bangalore, I will install an OTT app and download some movies for offline viewing. Inability to sleep on a train or flight made the matters worse. So finally, I said 'Hi!' to the person sitting next to me in his moment of detachment from his device. He acknowledged me back.
"Travel is so boring nowadays. Everyone is immersed in devices. I fondly remember the days when travel was such a learning experience. By the way, what do you for a living?"
I immediately realized the awkwardness of my question but sadly there is no Ctrl+Z in real life. He ignored my abruptness and asked back, "Are you in the Air Force?"
"Me? No! Doesn't my physique speak enough of me? By the way, why Air Force?"
"Your t-shirt", he replied. I was wearing an Air Force t-shirt gifted by my brother-in-law. An indirect armed forces brotherhood was established as he turned out to be ex-navy guy who was in cyber security. After quitting navy he was now working for some bigshot cybersecurity firm from across the Atlantic. Not only was his career trajectory interesting, he too was a pretty interesting person. These folks from armed forces, even after an early retirement, do seem to ensure that they are in shape one.
The trip from the airplane to airport taxi was littered with rapid instructional conversations – send the email, tell them a clear no, connect with his boss and fix a meeting, send the driver, will have food at home, is Pranav asleep, don't wait for me, and so on. This pace accompanied me throughout the Bangalore stay. I guess it is the native pace of the city. The taxi drivers also behave as if they are in a formula one racing event, talking continuously with the team managers. Otherwise, the city was almost the same as I knew it except for those strange unsafe looking disproportionate two wheelers.
The first thing I did in Bangalore was equip myself with an OTT app. As I have reading issues during a flight, I guessed that the same may be applicable to watching serious video content hence it was best to keep entertainment at its basic, and fast paced. As I had no time to seek recommendations, I assumed that dubbed ultra-masculine Telegu and Tamil movies will help. Lip syncing in Hindi makes them fast paced. It also forces the characters to mention the unmentionables, "Mein tumhein jaate hue dekh raha hun par dekhta nahin rahunga is liye keh raha hun ruk jaa varna mujhe wo karna padega jo mein karna nahin chahta!" (I am watching you go but will not keep watching hence I am asking you to stop otherwise I will have to do what I do not want to do).
In spite of all the planning I could not maintain my focus during the flight hence took frequent breaks from the movies to watch my co-passengers. The man on the window seat was playing a game which seemed like Tetris. But unlike the good old Tetris, this game was superimposed on his tablet screen. One could see the text heavy power point presentation behind the Tetris maze. The player was pumping his fist and punching the air at short intervals to celebrate his wins. At the risk of generalisation, I guessed that he was a product of 'premier' institute. His mannerism and dress seem to confirm that he was a management consultant of sorts, or maybe into data analytics. He hardly looked beyond his screen during the entire flight. The woman on my right sat on the edge on the seat throughout the journey. She occasionally talked to the person sitting on other side of the aisle. The conversations were largely about profitability of schools and their franchisee model.
The travel experience from the airplane to the taxi at Delhi airport was quite similar to that of Bangalore. The character of urban spaces and urban people are almost similar everywhere. A condominium at Sarjapur road, Bangalore is no different from a condominium at Sohna Road, Gurgaon. In the era of speed and scale, templates seem to be ruling the world. The business world may be amazed with templates but I find them characterless, pun intended.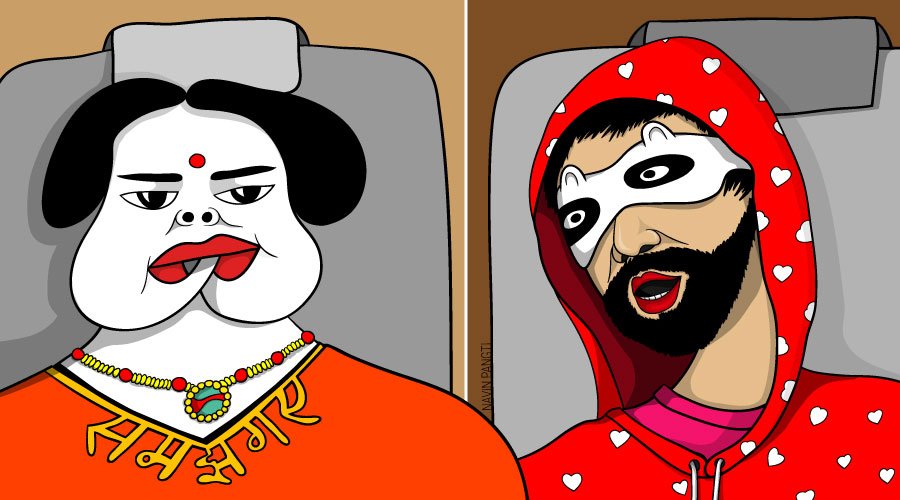 The train back to Kathgodam was not as clean as the one I took to reach Delhi. I later realised that the difference was inherent in the name of the train – Rajdhani versus Jan Sampark Kranti. In airplanes, passengers rush to get out of the plan asap, but trains witness the rush during the boarding process as well. There is something about chaos that we seem to love. Or maybe it is some sort of insecurity. Worth exploring!
The lady who eventually sat next to me, across the aisle, entered the train making angry remarks and literally abusing the owners of the bags which were kept on the luggage rack above her seat. Initially, no one reacted. Then one young person got up and adjusted the bags to create space for her bag but by that time she had made up her mind to use the aisle. "Now I am going to keep the bag next to my seat so that when the TT comes, I will tell him what kind of people travel on this train." Her companion, who seemed to be her relative, said in a low tone, "There is enough space above na! Why don't you just keep the bag there? This will be inconvenient to others."
"Who will lift such a heavy bag? Let it be next to the seat. It's better this way." she whispered. The attentive me could hear her loud and clear. I knew that due to her large bag, passengers would bump my shoulder, which was already hurting due to travel exertion and a previous injury. I felt angry but had no energy to confront her. She did not come across as a person who would appreciate logic. People like her are in majority hence it is fairly simple to identify them.
Throughout the journey, I sat cautiously to avoid an injury while she was engrossed in conversations with her travel companion who, by now I had figured out, was her not-so-well-off sister-in-law whose both sons were unemployed whereas our lady had two sons and a daughter. One was an engineer working in Chennai while the other one lived in Gurgaon, working as a techie in some IT firm. Her son-in-law also stayed in Gurgaon and was, according to her, an achiever who "travels across India for meetings in airplanes!" She advised her relative to be stern with her boys. Or better still, get them married.
"Responsibilities force laggards to perform", she exclaimed. Parts of her conversations explored socio-political domains wherein she talked ill about certain communities. She was a proud Pahari, she claimed and asked her 'sister' to keep her head held high. The train reaches Haldwani almost by midnight but the ladies never stopped talking. Actually, it was not 'they' but 'she' who did all the talking. The poor relative just admired and listened to her privileged sister.
What was also interesting is that proportion of people immersed in digital devices was comparatively less which made me wonder if the same class of compartment on Jan Sampark Kranti had lesser digital footprints as compared to Rajdhani Express. I wondered if it had something to do with the train or was it just a coincidence. Whatever it is, it allowed me to avoid immersing in a smart device to focus on ethnographic research work.
I reached home tired but ensured that I make some notes of my observations lest everything I share becomes a figment of my imagination.